Cider Mill 5k
Race begins at 10:30 a.m.
Our 5K race completes the morning events. Runners are treated to the beauty of New England in fall as they travel the race route.
Registration fee is $25.00. Registration in advance, no race day registration.
Cash awards to the top male/female finishers (overall), and trophies to division winners.
"The 5-K is the most popular race distance in America, the logical first race distance for most recreational runners, and a distance considered critically important even by Olympic marathoners. What more could you ask for in a race?" 
~Mark Bloom
Race Route
The race begins on Cider Mill Road, just past Crandall Park, and travels up Grant Hill Road. The route turns left onto Gehring Road Extension, and then left again onto Cider Mill Road, to return back to the park. The race begins flat, and then is followed with a series of rolling hills to tackle early on. Immediately following are gentle grades and down slopes that make for a safe, fast course.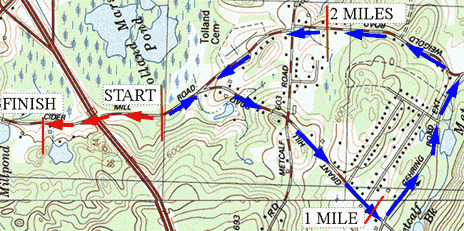 Awards and Trophies
Cash prizes are awarded to the top male and female finisher (overall).
Trophies are awarded to the top three male and female finishers in each of the following divisions:
| | |
| --- | --- |
|  Division | Age |
|  Youngsters | 10 & under |
|  Youth | 11 – 14 |
|  Junior | 15 – 19 |
|  Open | 20 – 29 |
|  Submaster | 30 – 39 |
|  Master | 40 – 49 |
|  Grandmaster | 50 – 59 |
|  Veterans | 60 – 69 |
|  Pros | 70 & up |